The GD90 Trace, the GDMS instrument from MSI, features a proven optical platform with innovative modern stable electronics and control. All voltages are under computer control providing unsurpassed ease of use with a simple USB interface to the control, acquisition and processing PC. Remote control of the instrument and hardware control of acquisition are also incorporated.
Unsurpassed Glow Discharge Mass Spectrometry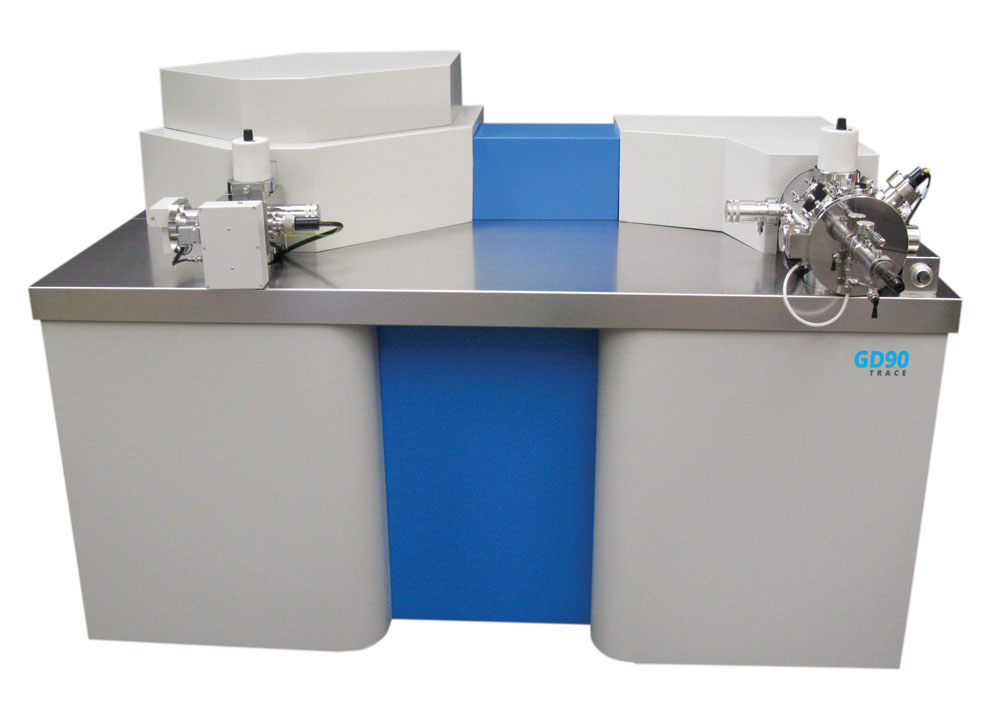 Advantages of GDMS
Full elemental analysis of major (wt%) to ultra-trace elements (ppb to sub-ppb) within a single scan
Direct solid sampling technique, thus alleviating the need for chemical digestion
Continuously variable high resolution capabilities from <400 to >10,000 RP (10% valley definition)
Dual collectors allowing up to 12 orders of linear dynamic range
A proven technique for high sensitivity depth-dependent distribution analysis of trace elements in coatings and other multi-layered advanced materials
Minimal matrix effects allow calibration without matrix matched standards by using Relative Sensitivity Factors (RSF)
Features of the GD90 Trace
Tantalum cell and source construction for ease of cleaning
Availability of cryo-cooling of the GD cell to minimise gas backgrounds
Accommodates both pin and flat cell geometries
No mass bias for light/heavy elements
Calibration consists of a quick check of 180Ta and 181Ta to ensure that the IC and Faraday detectors are in agreement
Low gas flow allows for cost-effective use of an alternate ionisation gas such as krypton
Ability to analyse a wide range of samples ranging from alloys to high purity materials (both conductive and non-conductive), in a plethora of sample geometries
Low sputter rate – at normal analytical conditions the sputter rate ranges from 150 nm/minute (conductive) to 100 nm/minute (non-conductive); lowering operational conditions allows sputter rate to be slowed by at least 5x
RSFs and Detection Limit determinations are derived from published, readily sourced methods
Front end assembly allows for the fitting of a custom-designed glove box for nuclear applications
To meet the ever-growing needs for GDMS, MSI is proud to employ a team of highly skilled dedicated GDMS personnel with over 35 years of combined GDMS experience. This GDMS expertise allows for instrumental and applications development, as well as thorough operational and analytical training specific for each customer.
See our GDMS, GD90 Trace Applications and Time Resolved Analysis pages for more information.